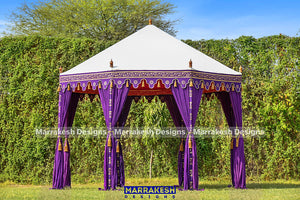 Are you planning a special event or looking to add a unique touch to your outdoor gathering? Consider renting a luxurious Indian-style tent! These tents are not only beautiful and eye-catching, but they also offer a cozy and comfortable space for you and your guests.

Renting an Indian-style tent can add a touch of elegance and charm to any outdoor event. Whether planning a wedding, a birthday party, or a corporate event, these tents can create a unique and memorable atmosphere that your guests will love.

Our Indian tents are practical and functional and can be customized to suit your specific needs. You can choose from various sizes and configurations to create a comfortable and welcoming space for your guests.

So, if you're looking for a unique and luxurious touch for your next outdoor event, consider renting an Indian tent. These tents will surely make your event unforgettable with their beauty, comfort, and versatility.