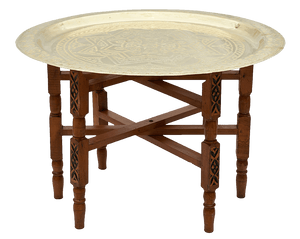 A Moroccan folding brass table is a type of furniture that combines the functionality of a table with the intricate beauty of Moroccan design. Here are some key features and characteristics of these tables:
Material: Moroccan folding brass tables are primarily made of brass, a durable and aesthetically pleasing metal. Brass is often chosen for its ability to be intricately carved and molded into elaborate designs.

Design: These tables feature exquisite Moroccan-inspired designs, which can include intricate geometric patterns, floral motifs, and filigree work. The designs are often handcrafted and engraved onto the brass surface.
REF: RNSF065